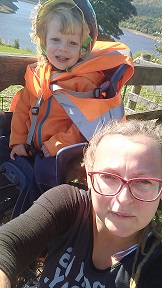 Joanna Kowalska.
We can change societies primarily by educating children and youth. For the last 6 years I have worked at the University of Sheffield with mainly young English people (but also with other nations). I taught them the Polish language, history, Polish literature and culture. At the same time, I was teaching our Polish youth at the Polish Saturday School in Sheffield. All the time I was thinking about returning to Poland and about the fact that I want to educate young Poles who will change the face of the country.
This is just an introduction, because many people cannot understand why I quit a relatively well-paid and stable job at a university in England to return to this country and teach Polish children.
Briefly about myself: I am a Polish philosopher and philosopher by education (MA at the University of Silesia). I have been specializing in glottodidactics (i.e. teaching Polish to foreigners) since 2006 and I still like it very much. In 2007 I went to work at the University of Bucharest, then I defended my doctoral dissertation in the field of humanities at the University of Silesia. Later I moved to Bratislava, where I also taught Polish at the Komenske University. In the meantime, I gave birth to my daughter and got a job at Sheffield University in the North of England. And then I also gave birth to a son. At the university in England, I learned so many things, on every possible level (not only professional, but also in general: life, language, culture, education, organization, etc.) that I reached a certain level in which I decided that it was time to use the whole put this knowledge into practice and translate all these experiences into some real, useful activities. Due to the fact that I have my own children who are educating and growing up, it was natural that I became interested in pedagogy. In my opinion, the brilliant concept, thought and methods of Maria Montessori have opened new perspectives on how to raise a wise, independent, creative person. Leaving a system where the priority is the pursuit of the titles that we de facto win for the prestige and recognition of others was for me a liberation from a certain scheme of thinking that was implemented for me. I don't want my children to learn because the rest of society expects them to do so. I want them to learn for themselves, derive JOY from it and grow up into HAPPY, FULFILLED adults. Therefore, in a very short and simplified form, I see in well-run Montessori institutions (but not only such) a deep, pedagogical, social and ethical sense.