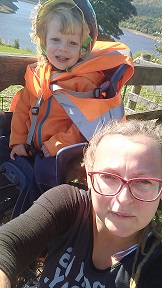 Joanna Kowalska
Społeczeństwa zmieniać możemy przede wszystkim poprzez edukację dzieci i młodzieży. Przez ostatnie 6 lat pracowałam na Uniwersytecie w Sheffield głównie z młodymi Anglikami (ale również z innymi nacjami). Uczyłam ich języka polskiego, historii, literatury i kultury polskiej. Równocześnie uczyłam naszą polską młodzież w Sobotniej Szkole Polskiej w Sheffield. Cały czas myślałam o powrocie do Polski i o tym, że chcę edukować młodych Polaków, którzy będą zmieniać oblicze kraju.
To tak tytułem wstępu, ponieważ wiele osób nie może zrozumieć dlaczego rzuciłam w miarę dobrze płatną i stabilną pracę na uczelni w Anglii, żeby wrócić do 'tego' kraju i uczyć polskie dzieci.
Krótko o sobie: z wykształcenia jestem polonistką i filozofem (mgr na UŚ). Od 2006 specjalizuję się w glottodydaktyce (czyli nauczaniu języka polskiego obcokrajowców) i nadal bardzo to lubię. W 2007 roku wyjechałam do pracy na Uniwersytecie w Bukareszcie, następnie obroniłam pracę doktorską w zakresie nauk humanistycznych na Uniwersytecie Śląskim. Później wyjechałam do Bratysławy, gdzie również uczyłam polskiego na Uniwersytecie Komenskego. W międzyczasie urodziłam córkę i dostałam pracę w Sheffield University w północnej Anglii. A później urodziłam jeszcze syna. Na uczelni w Anglii nauczyłam się tak wielu rzeczy, na każdej możliwej płaszczyźnie (nie tylko zawodowej, ale też generalnie: życiowo, językowo, kulturowo, wychowawczo, organizacyjnie etc.), że doszłam do pewnego pułapu, w którym uznałam, że czas użyć całej tej wiedzy w praktyce i przekuć wszystkie te doświadczenia na jakieś realne, pożyteczne działania. Z racji tego, że mam swoje dzieci, które się kształcą i dorastają, naturalnym było że zainteresowałam się pedagogiką. Genialna, moim zdaniem, koncepcja, myśl i metody Marii Montessori otworzyły mi nowe perspektywy na to jak wychować mądrego, samodzielnego, kreatywnego człowieka. Wyjście z systemu, w którym priorytetem jest pogoń za tytułami, które tak de facto zdobywamy dla prestiżu i uznania innych, było dla mnie wyzwoleniem z pewnego schematu myślenia, który mi wdrożono. Nie chcę żeby moje dzieci uczyły się dlatego, że reszta społeczeństwa tego od nich oczekuje. Chcę żeby uczyli się dla siebie, czerpali z tego RADOŚĆ i wyrośli na SZCZĘśLIWYCH, SPEŁNIONYCH dorosłych. Dlatego też, w ogromnym skrócie i uproszczeniu, widzę w dobrze prowadzonych placówkach montessoriańskich (ale nie tylko w takich) głęboki, pedagogiczno-społeczny i etyczny sens.