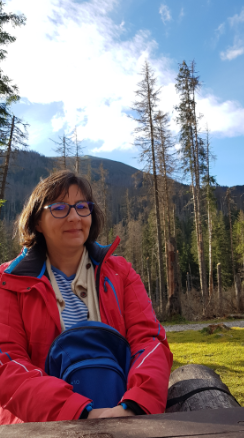 Katarzyna Gintowt
Jestem nauczycielem dyplomowanym w  nauczaniu zintegrowanym w klasach 1 – 3 oraz nauczycielem matematyki w klasach 4 – 8. Ukończyłam liczne kursy w tym m.in. Kurs przedszkolny Montessori, Zarządzanie oświatą, Arteterapia w edukacji, Edukacja i rehabilitacja osób z niepełnosprawnością intelektualną, z autyzmem i zespołem Aspergera. Od 2014 r. jestem kierownikiem ds. dydaktycznych w EMS.
 
Zawód wybrałam nieprzypadkowo. Już jako mała dziewczynka uczyłam moje lalki i misia, bawiąc się  "w szkołę". Robię w życiu to o czym marzyłam i sprawia mi to wielką radość. Jestem ciekawa życia w związku z tym pociąga mnie nowe. Ta ciekawość sprawiła, że poznałam już jako doświadczony nauczyciel pedagogikę Montessori. Los sprawił, że w 2015 roku miałam możliwość poznać tajniki wiedzy montessoriańskiej na pierwszym w Katowicach kursie i przekonać się, że to nowe wyzwanie w moim życiu.
Prywatnie jestem partnerką Andrzeja specjalisty IT oraz mamą 21 letniej Agaty studentki IT i 18 letniego syna Aleksandra ucznia LO. Chętnie spędzamy razem czas. Bardzo lubimy podróże, które pozwalają nam poznawać nowych ludzi, ich kulturę, zwyczaje, kuchnie i piękno krajów, które odwiedzamy.